Surgical Director, Multidisciplinary Pancreatic Tumor Clinic, University of Michigan Cancer Center
Co-Director of GI Oncology program, University of Michigan Comprehensive Cancer Center
Director, Pancreatic Cancer Destination Program, University of Michigan Medical Center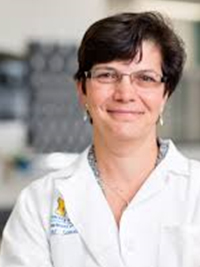 Diane M. Simeone, M.D. is the Lazar J. Greenfield Professor of Surgery and Professor of Molecular and Integrative Physiology at the University of Michigan Medical Center. Dr. Simeone received her bachelor's degree from Brown University in 1984 and her medical degree from Duke University in 1988. She completed her General Surgery training in 1995 at the University of Michigan at which time she joined the faculty. She is currently the Director of the Multidisciplinary Pancreatic Tumor Program and the Director of Gastrointestinal Oncology for the University of Michigan Comprehensive Cancer Center. She also serves as the Division Chief for Gastrointestinal Surgery and the Associate Chair of Research for the Department of Surgery. Dr. Simeone is the Past-President of the Society of University Surgeons and the President –Elect for the American Pancreatic Association. Dr. Simeone's clinical interest is the surgical treatment of pancreatic diseases, with a particular interest in management of tumors of the pancreas. Dr. Simeone has an NIH-funded laboratory with a focus on defining the molecular mechanisms of pancreatic tumorigenesis and the development of novel pancreatic cancer therapeutics. Her laboratory was the first to identify and characterize pancreatic cancer stem cells.