Stephen Pandol, MD, and Mouad Edderkaoui, PhD, from Cedars-Sinai Medical Center have developed a novel drug, Metavert, to treat pancreatic cancer. The drug is designed to prevent metastasis of pancreatic cancer and enhance the effectiveness of current treatments. Metavert targets, simultaneously, two important proteins involved in promoting cancer growth and in spreading of the disease. Their data in animals show complete prevention of cancer spreading to other organs and significant improvement of the survival time of mice.
They also found that the drug kills human cancer cells in the process of spreading to other organs when they tested Metavert with metastatic cells taken from pancreatic cancer patients at Cedars-Sinai.
Dr. Pandol, a valued member of the Hirshberg Scientific Advisory Board and Dr. Edderkaoui , a Seed Grant awardee in 2013, are featured in the video below. Watch now to see which their progress towards developing this treatment for pancreatic cancer and their plans for testing Metavert in a clinical trial in early 2018.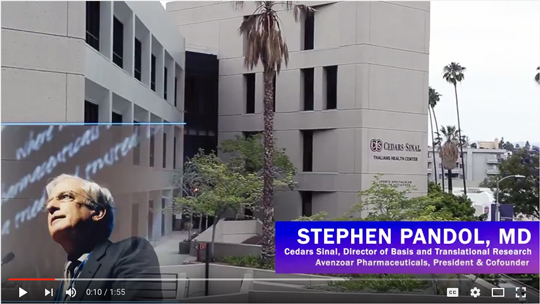 Advances in pancreatic cancer research happen thanks to generous donors like you whose support allows new ideas to thrive. There is more work to do but we're getting closer! Every donation helps in our efforts. For further information about Metavert, feel free to contact me at info@pancreatic.org.