World Pancreatic Cancer Day is a time for communities around the globe to come together to renew their dedication and help raise awareness for this disease. It is a global day of action that gives us a unique opportunity to make sure our voices are heard. Join us in shining a light on this disease – your actions have power.
In support of World Pancreatic Cancer Day or in honor of a loved one, make a donation, share the facts about pancreatic cancer on social media or share your story to make a lasting impact. Every year, the Hirshberg Foundation renews our heartfelt promise to never give up in this fight against pancreatic cancer, and together, we can fulfill that promise by celebrating World Pancreatic Cancer Day and raising awareness together!
World Pancreatic Cancer Day, Events & Activities

November 2020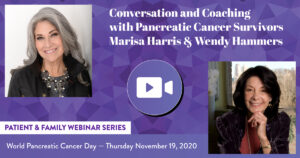 Webinar with Wendy Hammers, 5-year survivor & Marisa Harris, 21-year survivor In this webinar, Marisa and Wendy will take us through a coaching session, including tips, tools, practices and a question and answer session open to all participants. As longterm survivors, both Marisa & Wendy have a great deal of wisdom and hope to share it with our pancreatic cancer community. This presentation will be recorded and made available if you are unable to attend in person. Register for…
Find out more »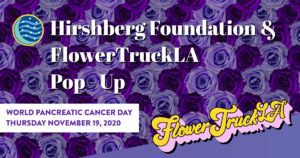 You're invited to the Hirshberg Foundation & FlowerTruckLA Pop - Up Event on World Pancreatic Cancer Day! Shop a stunning array of farm to vase flowers including the exclusive RBG Memorial Rose Combo. While you're there, shop the newest purple awareness items from the Hirshberg Foundation. Plus, Alicia ACE Easter will be on-site selling candles from her amazing I AM Candle Collection and the 11&12 year old co-founders of A2A Designs will sell custom mask chains. We'll also have the mother-daughter baking duo Babka Babes in the Palisades…
Find out more »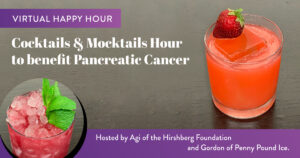 Join us on World Pancreatic Cancer Day, Thursday November 19, for a virtual Zoom Happy Hour at 5:30 p.m. Gordon will lead a demonstration and conversation of cocktails during COVID featuring the Penny Pouch™ - non-alcoholic, pre-diluted, cocktail mixer. Learn to make a few drinks - or mocktails for those not drinking - to enjoy from the comfort of your home, all while fighting pancreatic cancer. Fight Cancer with your choice of "purple" cocktail kits. AWARENESS HERO PACKAGE • Plantation…
Find out more »
+ Export Events
World Pancreatic Cancer Coalition

As a member of the World Pancreatic Cancer Coalition we recognize and celebrate that we are not alone in this fight. The Hirshberg Foundation along with 93 organizations from 35 countries on six continents, are raising awareness and inspiring action. For too long, pancreatic cancer was a neglected cancer, but that's changing now with initiatives such as World Pancreatic Cancer Day. Together we are helping bring greater attention, raise funds for research, support patients and, ultimately create better outcomes for this deadly disease.
This year, the World Pancreatic Cancer Coalition's message encourages our communities to get to know your pancreas, for you and your loved ones. It's about time you learned the risks and symptoms of pancreatic cancer — there is no early detection test, so pay attention to your body. Every moment matters. It's about time you talked to your family and friends about this disease. It's about time you raised your voice to advocate for more attention, more patient support and more research. On World Pancreatic Cancer Day 2020, let's all work together to make time. To make a difference.
Its About Time to Raise Awareness