Lisa Manheim, Executive Director
Hirshberg Foundation for Pancreatic Cancer Research
Race Director for the LA Cancer Challenge
Co-Founder, Tour de Pier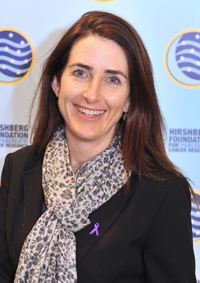 Lisa Manheim is the Director for the Hirshberg Foundation for Pancreatic Cancer Research and Race Director for the LA Cancer Challenge. She has had the privilege of serving in both roles since 1999. Manheim is a graduate of UCLA where she received her Bachelor of Arts degree in History with a minor in Business.
Just a few short months after the death of her stepfather, Ron Hirshberg, her mother, Agi Hirshberg wanted to help find a cure for a disease that took the life of her husband. The minimal research at that time on pancreatic cancer and the high fatality rate was the driving force that sparked the idea of creating the Hirshberg Foundation. Ron's son, Jon Hirshberg (Lisa's stepbrother) was determined to organize a fundraising event in his father's memory. He wanted to raise awareness and funds for pancreatic cancer research with an event that captured the spirit of his dad. The LA Cancer Challenge was born. Enlisting with her mom in the battle to finding a cure for the disease that took the life of her stepfather, Lisa armed herself to win the war against pancreatic cancer.
No win its 19th year, the LA Cancer Challenge has grown into one of the largest 5K/10K's in Southern California. Since 1998, the LA Cancer Challenge has raised more than $6.7 million for pancreatic cancer research. Serving as Race Director has been the most rewarding part of her adult life (aside from being married to her husband and raising her three sons). She always said that the Hirshberg Foundation/LA Cancer Challenge is her fourth child.
In 2012, Lisa again joined forces with Jon to produce an outdoor stationary cycling /spinning event to raise funds to support the battle against cancer. Together with their friend Heath Gregory, and after months of preparation, the Inaugural Tour de Pier was held in May 2013 at the iconic Manhattan Beach Pier and raised over $339,000 for our charities. In just its 4th year, the event surpassed the $1 million mark, bringing the four-year fundraising total to over 2.7 million.
Lisa continues to lead the way for the foundation to carry on its mission as a non-profit organization advancing pancreatic cancer research.