In the paragraphs that follow, Agi Hirshberg writes about her late husband, Ronald S. Hirshberg — the man she loved — the man in whose memory the Foundation was created.
How do I describe a gentle giant of a man who raced through life at jet speed taking family, friends, and business associates along on his magical journey?
Ronald S. Hirshberg was born on March 31, 1943, in Brooklyn, NY, to Rita and Jerry Hirshberg. Ron talked of having a loving childhood, with the normal dose of hardship that faced many families post WWII. By the time he was 12, Ron averaged two to three jobs per day — newspaper delivery boy, gardener, lifeguard, cabin boy, busboy, car attendant. At 16, he was running the family toy store.
Although Ron attended Boston University, it was a part-time job at Filene's that became the determining factor for the career path ahead. Within two years he became a buyer, and for the next 20 years Ron built, created and otherwise set trends in the New England retail arena. Casual Corner, Edison Bros., 5-7-9 Stores, Zayre Corp., and US Shoe Corp., are among the companies where he played a vital role — from buyer to president. Ron's talent for merchandising, buying, and planning were legendary; his vision for trends extraordinary. Not surprisingly, trade papers frequently referred to him as a "retail genius."
In 1966 he married Ruth Littman. They had two children – Lisa and Jon. The family moved from Boston to St. Louis, following Ron's retail path to Edison Bros. In 1980 he and Ruth divorced. Ron moved to Los Angeles, determined to become the West Coast's "gift to retailing." Finding that there weren't any substantial-sized retailers to challenge him, Ron instead formed a partnership with a leading sweater importer, and proceeded to master the wholesale side of the apparel trade.
Ron and I met in 1986 by chance — my father was coaching Ron's son's soccer team. Three days later we set our wedding date. Three months later our two families became one. Within our first year together, we founded a company named Agron and became the exclusive licensee for Adidas accessories — ultimately distributing caps, sports bags and knit items worldwide through offices in the UK, Spain, Taiwan, Germany, and the United States.
While Ron's career achievements were phenomenal, to him work was primarily a way to make money to allow for having fun. His son Jon was instrumental in Ron's desire to prove that men over 40 could compete in an international sporting event. Off-shore racing was what Ron selected, and he went on to win numerous races in his 38-ft. Scarab, Revenge 286. In 1985, his team was ranked third in the world, having achieved speeds of 90 mph.
Ron also had a genuine passion for Harley Davidsons, and was in many groups that loved to "eat and ride," as he liked to say. His love of bikes prompted him to become a one-time publisher, authoring The Iron Stallion, a book about men from all walks of life who ride motorcycles. He dedicated the book to Malcolm Forbes, a fellow Harley man. Ron often would remark, "He who has the most toys wins," and his business success enabled him to have a lot of exciting, "loud, fast and on the edge" toys. He snow skied gracefully and competitively, teaching us all the while he was gliding down the mountain. He danced with exceptional rhythm, and sang with gusto to Pavoratti. I always thought that Ron, when he retired, should join a senior group of actors. He also had a wonderful Jewish sense of humor, and could tell jokes with the ease of a professional comic.
Ron loved to eat, and his 300 pounds proved it. He hated constructive exercise, and no amount of prodding would change his mind. He adored all types of people, and particularly admired those who loved their work. Fisherman, banker, or truck driver — it made no difference to Ron — as long as people were passionate about their jobs.
One to cry easily over silly sentimental things, Ron was never ashamed of his tears. He was demanding of those he loved, expecting them to be the very best they could and unwilling to tolerate anything less. Ron helped people hourly — from making small decisions — to buying large corporations. Every day, he believed, should be lived to the fullest — no opportunity passed — no "I should haves." We all loved to hear Ron laugh, watching as he held his belly, tears in his eyes. None of us could stop laughing either, seeing how he was enjoying himself so.
Ron had words of wisdom…pearls of wisdom…that came easily to him — "He who has the gold rules" — and about 75 others that we continue to quote daily. Ron's letters and memos were brilliant — a combination of assertive and dogmatic — filled with logic and reason, and always ending with a genuine touch of friendship. For him business and friendship were synonymous. Ron's vision for marketing concepts not yet needed or realized were, perhaps, the key to his success. His trust of people, and ability to surround himself with talent, added to his winning formula.
Ron was 54 years old when he died of pancreatic cancer. He fought the unknown enemy for eight months and seven days.
In life, Ron was a born winner. No obstacle made him retreat; no challenge too difficult. A problem was an invitation; "no" meant "maybe," and "maybe" meant "yes." It is with this strong determination that he battled cancer, until the day his life ended.
The Foundation will continue Ron's fight to win the battle against pancreatic cancer. We will win for the life he loved, the people he loved, and for our new cancer families who deserve answers.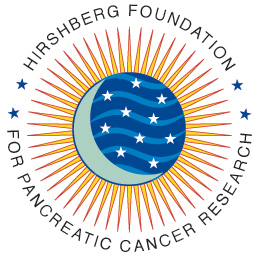 Our original logo, with 54 rays of sunshine for Ron's years of life along with the Sun, Moon, Stars, Water, and Flag, represents Ron's love for life, 24 hours a day.