Help Us shine a light on pancreatic cancer this November!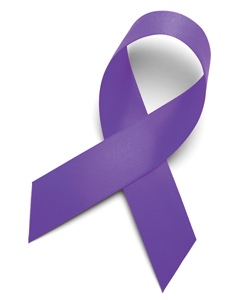 November is a month of empowerment, education and inspiration for communities far and wide who have been touched by pancreatic cancer. It is our opportunity to shine a light on this disease, to elevate our voices to raise awareness and invite others to answer our call-to-action. It is a time to educate the world by sharing our
stories
, raise
money
for research and let patients know that we will
never give up
.
This month we're sharing a variety of ways that you can get involved. With your help we can drive research towards a cure while we continue to provide vital resources for patients and families. To inspire you to take action we're sharing survivor & tribute stories, providing easy ways to fundraise and have some great World Pancreatic Cancer Day events. Join us today & shine a light on pancreatic cancer!
Early detection helps save lives. Learn & share the facts, symptoms and risk factor of pancreatic, it can help with early detection, motivate healthy life choices and provide guidance on when to seek genetic counseling. Our educational resources can help you take steps to prevent this disease, seek medical interventions and educate family and friends who may be at risk.
Show your support this November with
Celebrate, Participate and Dedicate
! Each word represents a call-to action that you can answer. Join us at a local
event
, create a
fundraiser
, make a donation,
share your story
and get inspired by our incredible community. On
World Pancreatic Cancer Day
, we share our universal message that it's about time as we unite across the globe to shine a light on pancreatic cancer!
Sharing your commitment to help raise awareness & fight for a cure is the first step. It's the Hirshberg Foundation's heartfelt promise to never give up in this fight against this disease, and together, we can fulfill that promise.