This year, the Hirshberg Foundation celebrates its 20th anniversary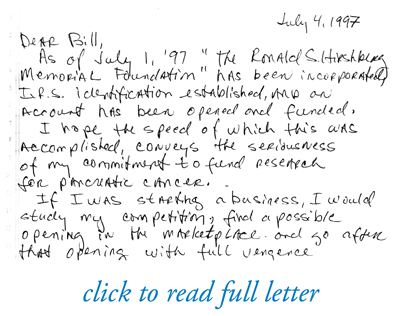 Starting July 1, 2017, exactly 20 years to the day that Agi wrote her letter, the Hirshberg Foundation will be recognizing a growing number of supporters, like Agi, won't give up until we find a cure for pancreatic cancer. There are countless reasons why each of us have committed to see this fight through, whether it's on behalf of a loved one, because we don't want to see other families suffer, or because you want to live in a world that is cancer free. Let us know why you'll never give up – we want to hear from you!
When we first set out on this extraordinary journey to fight pancreatic cancer, we made a promise that still holds true; we would be relentless and we would never give up! For 20 years we've kept that promise thanks to families, friends, survivors and those whose lives have been touched by pancreatic cancer. They are never giving up! Here are their stories.
"We Will Never Give Up" Sign Downloads
This year, 2017, the foundation celebrates its 20th anniversary. With the heartening motto, "We give new meaning to the words Never Give Up" we reflect on the stepping stones that have gotten us to 20 years as we forge down the path towards a cure.
We want you to pledge to never give up. Join us as we stay relentless for a cure. Join us and download your own 'We Will Never Give Up' sign.
1) Download your own
"We Will Never Give Up"
Sign
2) Personalize your sign & snap a pic
3) Share your photo and story, using the hashtag
#wewillnevergiveup
We will share your #wewillnevergiveup signs on our social media platforms.
Thank you for never giving up!
To learn more about our history, mission and our commitment to never give up, please watch and share our new 20th Anniversary Video. Then join us. Help us continue our relentless pursuit of effective treatments, prolonged life and a cure.