Associate Professor of Medicine, University of California, San Francisco
Chief Scientific Officer, UCSF Pancreas Cancer Program
Executive Committee Member, UC Pancreas Cancer Consortium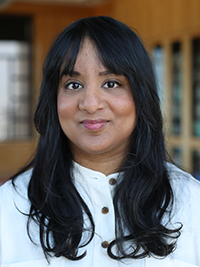 Rushika M. Perera PhD is an Associate Professor in the Departments of Anatomy and Pathology in the School of Medicine and a member of the Helen Diller Family Comprehensive Cancer Center at UCSF. Dr. Perera is also the Chief Scientific Officer of the UCSF Pancreas Cancer Program.
For the last decade, Dr. Perera's research has focused on defining the cellular and molecular programs that drive pancreatic cancer. Her laboratory has made important discoveries on how pancreatic cancer cells rewire their metabolism to support growth, evade the immune system and circumvent therapeutic interventions. Her laboratory focuses on understanding how scavenging pathways such as autophagy and the lysosome – a degradative organelle – enables metabolic and cellular adaptation to stress and contributes to aggressive features of disease. Beyond mediating degradation of diverse macromolecules, the lysosome also plays an important role in signal transduction, cellular quality control, metabolism and detoxification.
Dr. Perera is the recipient of several prestigious awards including the NIH Director's New Innovator Award, the Damon Runyon-Rachleff Innovation Award, the American Association for Cancer Research Next Gen Star Award and was the 2021 recipient of the Gunter Blobel Early Career Award of the American Society for Cell Biology.