Agi Hirshberg, Founder
Hirshberg Foundation for Pancreatic Cancer Research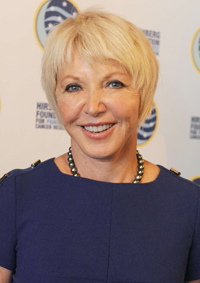 In 1998, after her late husband Ron Hirshberg lost his battle with pancreatic cancer, Agi established the Hirshberg Foundation for Pancreatic Cancer Research (Foundation). The Foundation was the first of its kind to focus exclusively on this disease, and under Agi's direction, funded the establishment of a 3-prong research effort: basic science, translational research and a pancreas tissue bank at UCLA. In 2005, a national seed grant program was added to her agenda, funding new concepts of research that do not yet qualify for National Institute of Health (NIH) funding. The success of all the funded research grants to date has received approximately 130 million dollars of NIH funding. In 2014, the UCLA Agi Hirshberg Center for Pancreatic Diseases was opened providing a critical hub for advancing pancreatic cancer research and treatment breakthroughs. The establishment of an Integrated Practice Unit (IPU) breaks down traditional divisions and brings together, in a shared space, experts in surgery, oncology, pathology, radiology, and psychosocial needs for patients and caretakers.
In addition to a research focus, Agi wanted patients to be at the heart of the foundation. In 1999, she started the patient's benefits program in partnership with Cancer Care, Inc. offering financial assistance to those living with pancreatic cancer. In 2005, she created the Foundation's first patient and caretaker symposium to educate and illuminate the latest updates in research and treatment. This annual event brings doctors and families together in informal settings that both educate and inspire.
As a respected member of both the business and financial community in Los Angeles, she serves on the UCLA Board of Visitors, UCLA School of Nursing and UCLA Women in Philanthropy. Prior to the Foundation her business background includes four decades of top-level management in marketing and design in the Apparel and Sporting Goods Industries.
Personal: Born in Hungary, a 1956 refugee to the United States at age 10 with her parents Edmund, a Holocaust survivor and beautiful Sarah Mandel. Agi was educated in public schools, received her bachelor's degree at Woodbury University in Business and Design. Her large family includes Lisa and Mike and Ron's children, Jon and Lisa Hirshberg along with ten grandchildren. Agi's Mom Sara passed away in 2014 followed by Dad in 2020. Both of her parents were proud and supportive of her desire to make a difference in the world for pancreatic cancer patients.