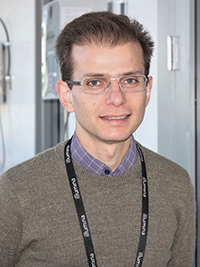 Alexandros Tzatsos, MD, PhD
Associate Professor
Anatomy and Cell Biology
The George Washington University
Washington, DC
Understanding the role of defective DNA damage response in chronic inflammation and pancreatic cancer
Overview
Aim: Therapy
Chronic pancreatitis and the associated inflammation are well-established risk factors for the development of pancreatic cancer. However, the nature of genetic alterations of the exocrine pancreas that predispose to chronic inflammation and facilitate oncogenic transformation are largely unknown.
We performed a systematic analysis to uncover the genetic origins of chronic pancreatitis linked to pancreatic cancer and found that defective DNA repair by homologous recombination as the common denominator. Genetic alterations affecting DNA repair genes are largely haploinsufficient with a strong tendency to co-occur, suggesting that smoldering genomic instability may dictate early neoplastic commitment and clonal selection. Among them, BAP1 (BRCA1 Associated Protein-1) expression stood as the most significant predictor of lower risk and longer survival. Loss of BAP1 occurs in a third of pancreatic ductal adenocarcinomas and associates with a history of chronic pancreatitis. Deletion or heterozygous loss of BAP1 causes genomic instability, tissue damage, and pancreatitis with full penetrance. Concomitant expression of KrasG12D leads to aggressive and metastatic pancreatic cancer.
We seek to delineate the role of homologous recombination deficiency in chronic inflammation and pancreatic cancer. From there we will assess the combination of platinum-based chemotherapy and immune checkpoint inhibitors for pancreatic tumors with a signature of genomic instability. Overall, our proposal will investigate genetic contingencies that link chronic inflammation and pancreatic cancer and identify novel biomarkers of responsiveness to systemic chemotherapy.