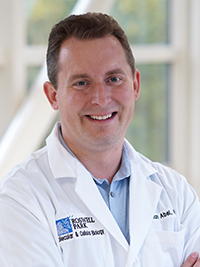 Ethan V. Abel, Ph.D.
Assistant Professor
Molecular and Cellular Biology
Roswell Park Comprehensive Cancer Center
Buffalo, NY
Deciphering the role of the HNF1A-SKP2 axis in therapeutic response in pancreatic ductal adenocarcinoma
Overview
Aim: Therapy
Therapeutic resistance is a hallmark of pancreatic ductal adenocarcinoma (PDAC), and understanding the underlying mechanisms is essential to realizing effective treatments for this disease. Pancreatic cancer has the lowest survival rate of any major malignancy, largely due to resistance to conventional and targeted therapies. One such targeted therapy, MEK-inhibitors (MEKi), are used to block the signaling pathway of mutant KRAS, the most common driving mutation in PDAC; however, resistance to MEKi has limited their use in the clinic. The mechanisms driving resistance to MEKi are not well understood.
Another class of targeted therapies are BET-inhibitors (BETi), which target the epigenome to turn off the expression of cancer-driving genes. The mechanisms that determine response to BETi in PDAC are unknown, and understanding these mechanisms is important for predicting patient response and resistance. We have found that the novel oncogene, HNF1A, which regulates gene expression in PDAC, promotes resistance to MEKi. Additionally, HNF1A is eliminated by BETi and this appears critical for BETi function in PDAC.
In the context of both MEKi and BETi we found that HNF1A upregulates the expression of SKP2, an oncogene and important driver of cell growth. We hypothesize that this HNF1A-SKP2 "axis" is critical for resistance to MEKi and response to BETi. In this proposal, we will mechanistically explore how HNF1A regulates SKP2 while also exploring how HNF1A and SKP2 determine resistance and sensitivity of PDAC cells to MEKi and BETi. These studies will lead to a better understanding of how HNF1A and SKP2 control responsiveness to therapies and will shed light on how targeting these drivers can improve patient treatment options.