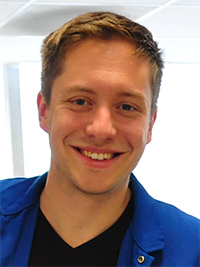 Evan R. Abt Ph.D.
Postdoctoral Researcher
Molecular and Medical Pharmacology
University of California, Los Angeles (UCLA)
Los Angeles, CA
Identification of actionable immuno-metabolic vulnerabilities of pancreas cancer tumors elicited by mutant-selective KRAS inhibitors
Overview
Aim: Therapy
KRAS mutations are the most common drivers of pancreatic ductal adenocarcinoma (PDAC). The recent groundbreaking discovery and clinical translation of mutant KRAS specific inhibitors has reinvigorated hope for direct targeting of this dominant driver oncogene in PDAC formerly deemed "undruggable." However, it is becoming increasingly clear that they alone are insufficient to induce durable tumor regressions and that the therapeutic potential of mutant KRAS inhibitors will only be realized if they are administered as components of rationally designed combination therapies. Thus, we aim to develop effective combinations which leverage vulnerabilities elicited by KRAS inhibition and are suitable for clinical application. We found that while KRAS inhibitors potently restrict the growth of PDAC tumor cells, they also trigger the production the immunosuppressive metabolite adenosine, suggesting that simultaneous inhibition of adenosine signaling in the tumor microenvironment may be required to incite anti-tumor immune responses. This project will focus on (i) characterizing the mechanism of adenosine release by PDAC cells following KRAS inhibition and applying this information to guide the choice of companion therapies; and (ii) evaluating combinations of mutant KRAS inhibitors, adenosine signaling blockade and immune checkpoint blockade in PDAC models in mice. Collectively, our studies will generate new insight into the immuno-metabolic effects of KRAS inhibitors while providing the rationale for combination therapies.