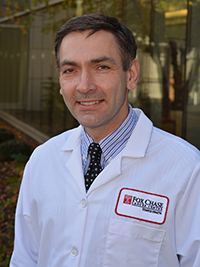 Igor Astsaturov, M.D., Ph.D.
Associate Professor
Molecular Therapeutics
The Research Institute of Fox Chase Cancer Center
Philadelphia, PA
SCAP Regulation of Pancreatic Acinar Cell Differentiation
Overview
Aim: Molecular Therapeutics
Defects in lipid metabolism are associated with numerous pancreatic pathologies including chronic and acute pancreatitis, diabetes, and cancer. Selective pancreatic knockout of the central regulator of lipogenesis Scapf/f gene (Sterol regulatory element binding protein Cleavage-Activating Protein) with ubiquitous Pdx1-Cre promoter resulted in markedly reduced numbers of acinar cells producing digestive enzymes, whereas the insulin-secreting islets and pancreatic ducts remained intact. The SCAP/SREBP axis has never been previously implicated in control of pancreatic acinar cell differentiation.
Given the normal function of SCAP is to regulate cellular responses to dietary fats, and given that hyperlipidemia and defects in acinar cell differentiation are a major cause of pancreatic cancer, we hypothesize that SCAP signaling in acinar cells may play an important role in mediating both acinar cell homeostasis and pathogenic responses of these cells to dietary fats.
Our aim is two-fold, 1) to confirm SCAP signaling through SREBP proteins regulates normal formation of acinar cells in development and 2) to compare the transcriptional changes in acinar cells induced by SCAP or SREBP deficiency to define critical regulators of differentiation affected by SCAP loss.
Completion of this work will lend support for a new paradigm for regulation of pancreatic cell dynamics, in which cholesterol and fatty acid metabolism signal through SCAP to regulate acinar cell differentiation and may predispose to pancreatic cancer development.