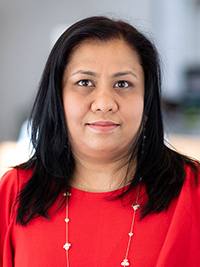 Kamini Singh Ph.D.
Assistant Professor
Molecular Pharmacology
Albert Einstein College of Medicine
Bronx, NY
Finding Neo-Antigens in Pancreatic Cancer: A Translational Approach to Improve Immunotherapy
Overview
Aim: Immunotherapy
Pancreatic cancer remains deadly and hard to cure despite the new advances in precision medicine and immunotherapy. New insights into the molecular mechanism, early detection markers, and antigen discovery are required to enhance the treatment and patient outcome. We take a different approach where we try to identify foreign proteins that are only made in pancreatic cancer cells and not in normal cells. Proteins are made from messenger RNA molecules from the coding region. We have shown that upon oncogene activation this process changes and some proteins can be made from the noncoding regions of the same messenger RNA molecule. Since these proteins are not made under physiological conditions and are only made in cancer cells they may act as foreign proteins giving rise to cancer-specific antigens. We use our novel approach to find these cancer antigens that are specifically generated upon oncogene KRAS activation in pancreatic cancer and study their role in pancreatic cancer progression and immune response. The goal is to identify pancreatic cancer-specific antigens and develop new immunotherapy treatments to overcome the deadly disease of pancreatic cancer.