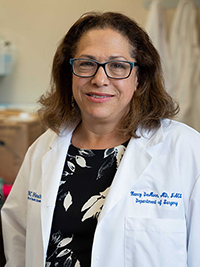 Nancy Klauber-DeMore, MD
Professor of Surgery
Surgery
Medical University of South Carolina
Charleston, SC
Evaluation of Novel Targeted Therapy to Secreted Frizzled Related Protein 2 in Pancreatic Cancer
Overview
Aim: Therapy
Pancreatic cancer remains a leading cause of cancer deaths in the United States. Even with improved chemotherapy regimens, five-year survival remains dismally at just around 10%. One of the barriers to treatment in pancreatic cancer is its desmoplastic stroma. Pancreatic cancer has the highest level of stroma of any solid organ tumor at about 80% of its mass, which decreases the tumor vasculature and raises the interstitial pressure – conditions that shield the tumor from chemotherapy and the immune response.
Secreted frizzled related-protein 2 (SFRP2) is a glycoprotein that has been shown to be
upregulated in multiple cancer types. It has previously been shown to stimulate angiogenesis, stimulate tumor growth, and upregulate markers of immune dysfunction. Our preliminary data shows that SFRP2 is highly expressed in pancreatic cancer and is prognostic for survival. We have also shown that SFRP2 and is associated with tumor fibrosis and stimulates collagen production and EMT in fibroblasts. Further, we have developed a humanized monoclonal antibody to SFRP2 (hSFRP2 mAb) that has shown efficacy in inhibiting tumor growth, angiogenesis, and overcoming resistance to PD-1 inhibition. Due to pancreatic cancer's high stromal content, we hypothesized that SFRP2 may play a larger role in this tumor type and may be a mechanism by which fibroblasts in the tumor stroma become activated and develop a myofibroblast phenotype. Based on the multiple cell types that SFRP2 effects in tumor growth, we hypothesize that the hSFRP2 mAb will inhibit pancreatic cancer growth as monotherapy, and will be synergistic with chemotherapy and immunotherapy.