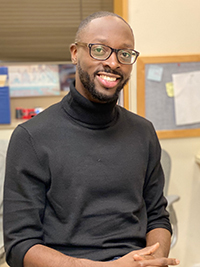 Tobiloba Oni, PhD
Research Fellow
Whitehead Institute for Biomedical Research
Cambridge, MA
Interrogating the Tumor Cell Surfaceome of Pancreatic Cancer Subtypes
Overview
Aim: Diagnosis
For the past four decades, pancreatic ductal adenocarcinoma (PDAC) has remained one of the deadliest human malignancies partly due to ineffective therapies. In order to improve the outcomes for pancreatic cancer patients, better, more effective treatments need to be established. Developing more effective therapeutic strategies will require a detailed understanding of the heterogeneity of PDAC in order to optimize existing therapies and discover novel therapeutic targets. Since we currently lack tractable therapeutic targets for this lethal disease, there is an urgent unmet need to identify new targets. Although the transcriptional subtyping has resolved PDAC heterogeneity into two major molecular subtypes, classical and basal-like, these classifications have not yet led to any effective therapies.
In this proposal, we aim to profile and leverage the cell surface proteome of the unique subtypes of PDAC to define novel therapeutic targets for PDAC. We will first perform comparative proteomic profiling of the cell surface proteome of patient-derived PDAC organoids with classical or basal-like transcriptomic signatures. Using these models and cell-surface proteomics, we will perform an unbiased and in-depth comparative analysis of the PDAC surfaceome. This analysis will uncover novel cell-surface proteins that can serve as distinct therapeutic targets and useful biomarkers of the classical and basal-like subtypes, thereby providing clinical significance to these subtypes. Using CRISPR/Cas9-based ablation, we will functionally determine cell-surface proteins that are differentially essential for the growth of classical and basal-like PDAC. Since membrane proteins are easily accessible and therefore amenable to antibody therapies, we will develop antibodies to block the tumor promoting functions of candidate targets.
The successful completion of these aims will reveal, in great detail, how the different cellular states in PDAC reprogram the cell-surface proteome to promote aggressive disease. The proposed studies will provide crucial biological insights into the biology of PDAC subtypes, reveal novel cell-surface therapeutic targets, and uncover antibody-based strategies to potentially treat pancreatic cancer.