Dear Hirshberg Foundation Family,
On behalf of all of us at the Hirshberg Foundation, we hope this letter finds you safe and in good health. The past six months have not been easy for anyone, including businesses and non-profits. Normally, this time of year I would write to share our progress in research and news on grants we hope to fund. However, 2020 has caused us to pivot from our typical path. I am pleased, however, that I can share how well we have all adapted. Your donations and support have helped us thrive during these difficult times.
First, we'd like to share good news for our dedicated donors. Under the CARES Act of 2020, donors can now get a Federal Income Tax deduction for charitable contributions up to 100% off their Adjusted Gross Income. This opportunity is slated to end December 31, 2020 but it can be used in subsequent years as well. Please consult your tax advisor whether this option will work for you and share this information with family and friends who have or will support us this year.
I am also happy to share what a wonderful job our staff is doing imagining creative ways to keep us afloat. Our annual Symposium was quickly replaced in April with our new Patient & Caregiver Webinar Series.  Our wonderful UCLA doctors generously connected with our community on Zoom to discuss updates in chemotherapy, clinical trials, cannabis research, surgery and more. This has included mental health topics, from a nurse's guide during treatment to the effects of positive thinking while battling pancreatic cancer. While each session was virtual, we enjoy seeing each face and every video is now available on our website.
Today in-person events are still not an option, but we have adjusted brilliantly with how we engage supporters. We've been busy organizing two virtual events. Our reimagined Tour de Pier was a success and the Virtual LA Cancer Challenge coming up on October 25th! I hope you will participate in the LACC wherever you are – its success and fundraising are fundamental to ending this disease. You and your loved ones can register today at www.lacancerchallenge.com.
I am humbled by your consistent support and thank you from the bottom of my heart for your "never give up" attitude while we search for the cure! The times we are living in are difficult for all of us, but our commitment to fight for a cancer-free life is a promise we will keep.
All the best,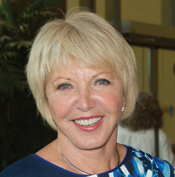 Agi Hirshberg
Founder