Distinguished Professor of Surgery Emeritus & Emeritus Chief, Section of Pancreatic and Gastrointestinal Surgery, David Geffen School of Medicine at UCLA
Emeritus and Founding Director, UCLA Hirshberg Center for Pancreatic Diseases
Emeritus and Founding Director of Ronald S. Hirshberg Translational Pancreatic Cancer Research Laboratory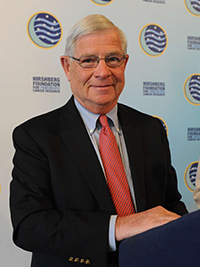 Dr. Howard A. Reber was born and raised in Philadelphia, PA, where he also received his medical education and surgical training at the University of Pennsylvania. His clinical and research interests in pancreatic cancer and other pancreatic diseases date to that time. Since he finished his formal education in 1970, he has held academic appointments in a number of institutions including the University of California at San Francisco, the University of Missouri in Columbia, and the University of California at Los Angeles. At UCLA, he is currently Distinguished Professor of Surgery Emeritus.
Dr. Reber has an international reputation and is an acknowledged authority in pancreatic physiology and disease. He is widely sought after as a lecturer and visiting professor. He has written and edited a number of major textbooks and chapters on pancreatic diseases, especially pancreatic cancer. His research publications are in excess of 400 articles, abstracts and chapters. He is a past president of the American Pancreatic Association and served for 20 years as its Executive Secretary and Treasurer.