Professor of Medicine, David Geffen School of Medicine at UCLA
Associate Director, UCLA-NIH Clinical Nutrition Research Unit
Editor-in-Chief, Pancreas
Chief Emeritus of the Hirshberg Scientific Advisory Board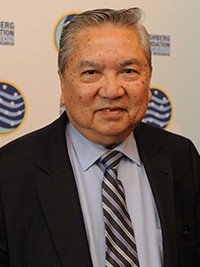 Dr. Go is a Distinguished Professor of Medicine and former Executive Chairman of the Department of Medicine at the David Geffen School of Medicine, at the University of California, Los Angeles (UCLA). He is also Director of the National Center for Complementary and Alternative Medicine-funded UCLA Center for Excellence in Pancreatic Diseases.
He was born in Ozamis City, Philippines, and received his medical degree from the University of Santo Tomas in 1963. He received his internal medicine and gastroenterology training at the Mayo Clinic, Rochester, Minnesota, and became a Professor of Medicine at the Mayo Clinic.
From 1975 to 1985, he co-established and directed the National Cancer Institute's (NCI's) Serum Immunodiagnostic Bank Program at the Mayo Clinic. From 1985 to 1988, Dr. Go served simultaneously in three related capacities at NIH: (1) Director, Division of Digestive Diseases and Nutrition, the National Institute of Diabetes and Digestive and Kidney Diseases (NIDDK); (2) Chairman of the Nutrition Coordinating Committee, Office of the Director, NIH; and (3) Executive Secretary of the Federal Interagency Nutrition Coordinating Committee, Office of the Assistant Secretary of Health, HHS.
From 1988 to 1992, Dr. Go was Executive Chair, Department of Medicine, at UCLA, providing academic leadership and stewardship of the Medicine Program in Research, Education, and Practice at eight academic medical centers. In 1993, he became Associate Director of the NCI-funded Clinical Nutrition Research Unit, Director of the UCLA Nutrition Education Program, and Co-Principal Investigator of the Nutrition Curriculum Development grants and the Cancer Prevention Curriculum program at UCLA. In 1996, Dr. Go cofounded the UCLA Center for Human Nutrition. From 2003 until 2023, Dr. Go was Chair of the Scientific Advisory Board of the Hirshberg Foundation. He is currently the Chief Emeritus of the Hirshberg Scientific Advisory Board. He was appointed by the Secretaries of the Department of Health and Human Services (DHHS) and the United States Department of Agriculture to the 2005 Dietary Guidelines Advisory committee.
In addition, Dr. Go co-founded and was past President of the American Pancreatic Association and is the founding and current Editor-in-Chief of the journal Pancreas. He has received numerous honors and recognition awards including: Research Achievement Award, American Institute for Cancer Research (2001); Lifetime Achievement Award, American Pancreatic Association (2001); American Gastroenterological Association/Miles & Shirley Fiterman Foundation Hugh R. Butt Award for Distinguished Achievement in Clinical Research in Nutrition (2003); Géza Hetényi Memorial Medal, Hungarian Society of Gastroenterology (2006); American Gastroenterological Association Foundations' Mentors Research Scholar Award (2007); and the American Society for Nutrition David Kritchevsky Career Achievement Award (2014).