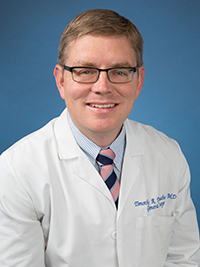 Dr. Timothy Donahue attended Northwestern University where he received both his Bachelor's degree and Medical degree. Upon completion, he continued his surgical and research training at UCLA. In 2009, he was appointed faculty and has made strides at UCLA ever since.
Dr. Donahue is a Professor of Surgery at the David Geffen School of Medicine at UCLA. He has a joint appointment in the Department of Molecular and Medical Pharmacology to facilitate his research program. Dr. Donahue is the Chief of the Division of Surgical Oncology and Vice Chair for Cancer Surgery in the Department of Surgery. In this role, he oversees all of cancer surgery including the pancreatic cancer program, which is one of the largest in the nation. In addition, Dr. Donahue is also the Program Director of the General Surgery Residency Program at UCLA.
Dr. Donahue is a very busy pancreatic surgeon who works diligently performing up to three pancreatic surgeries per week. He is genuinely interested in caring for patients with pancreatic cancer. His clinical research is focused on improving the care of patients with borderline resectable or locally advanced disease. Dr. Donahue is a strong advocate of prolonged preoperative chemo or radiation therapy for this group of patients to optimally select for those who will benefit from a surgical resection. As a result of this approach, Dr. Donahue and his team have among the best survival rates that have been reported.
In addition to his clinical work, Dr. Donahue is the Principal Investigator of a National Institutes of Health funded research laboratory. His scientific research focuses on developing improved treatment strategies and earlier diagnostic markers for patients with pancreatic cancer. He collaborates closely with other scientists across the UCLA campus, including faculty in the Ahmanson Translational Imaging Division and California Nanosystems Institute. He is optimistic that therapy for pancreatic cancer will markedly improve during his career.