Professor of Medicine at Mayo Clinic
Consultant, Division of Gastroenterology and Hepatology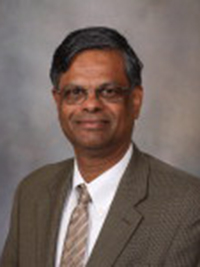 Suresh Chari, M.D. is a Professor of Medicine with the Mayo Clinic College of Medicine. He is also a consultant in the Division of Gastroenterology. He is Head of the Pancreas Interest Group in the Division of Gastroenterology and Hepatology.
Dr. Chari has a broad interest in diseases of the pancreas and his NIH-funded research focuses on the role of diabetes and hyperglycemia as a marker of undiagnosed pancreatic cancer. Additional areas of clinical research involve understanding the clinical spectrum of autoimmune pancreatitis and he is also interested in cystic tumors of the pancreas including their classification, prevalence and natural history.
His current project, "Pancreatic Cancer-induced Diabetes: A Clue to its Early Diagnosis" has the long-term programmatic goals to facilitate early detection of pancreatic cancer. Towards this end our research is focused on a) identifying groups of individuals who are at higher than average risk of having asymptomatic sporadic pancreatic cancer and b) developing biomarkers that can identify early pancreatic cancer. Research so far has been epidemiologic in nature and has focussed on establishing new-onset diabetes and hyperglycemia as a marker of pancreatic cancer. In a recent case-control study from Olmsted County, Minnesota, we showed that subjects >50 years with new-onset diabetes have an 8 times increased risk of being diagnosed with pancreatic cancer within 3 years of meeting criteria for compared to the general population. Our ongoing epidemiologic studies have also shown that <20% of patients with pancreatic cancer have normal fasting glucose and nearly 50% have diabetes, which is often new-onset and that onset of hyperglycemia in pancreatic cancer precedes diagnosis of cancer by 18 months. We believe that our work so far has fulfilled our first goal, i.e., to identify a high-risk group for sporadic pancreatic cancer. Our work has not only shown that glucose intolerance is present in majority of pancreatic cancer patients, but also occurs at a time when the patients have no cancer-specific symptoms. Since glucose intolerance is a characteristic feature of pancreatic cancer, the second phase of our research is focused on getting a better understanding of the pathogenesis of diabetes in pancreatic cancer and finding its potential mediators. This phase of research has lead us to forge new collaborations with endocrinologists, basic scientists and those with experience in biomarker discovery and development.